Practical Learning: Introducing the Spin Edit Control
To start a new project, on the main menu, click File -> New -> VCL Forms Application - C++Builder
In the Object Inspector, change the properties of the form as follows:
Caption: Movie Reviewer
Name: frmReviewer
Position: poScreenCenter
To save the project, on the Standard toolbar, click the Save All button
Click the New Folder button
Set the name to MovieReviewer1 and press Enter twice
Set the name of the unit to Reviewer and click Save
Set the name of the project to MovieReviewer and click Save
To test the application, press F9 (that will also create a folder named Debug)
After viewing the form, close it and return to your programming environment
From the resources that accompany these lessons, copy the annie.bmp, bhc.bmp, dave.bmp, disgent.bmp, fatal.bmp, housesitter.bmp, newjack.bmp, and showgirls.bmp files
Paste them in the Debug sub-folder of the current project
A spin button is based on the TSpinButton class that is derived from TWinControl: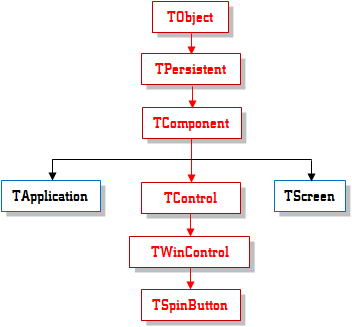 To add a spin button to your application, in the Samples section of the Tool Palette, click the TSpinButton icon
and click the form or container.
The spin button is equipped with a constructor. The TSpinButton class's constructor is typically used to dynamically create a spin button.

Practical Learning: Creating a Spin Button
Design the form as follows:


Control
Caption
Kind
Name
TLabel
Title:
TEdit
edtTitle
TSpinButton
sbtPosition
TLabel
Director:
TEdit
edtDirector
TLabel
(c) Year:
TEdit
edtCopyrightYear
TLabel
Rating:
TEdit
edtRating
TLabel
Length:
TEdit
edtLength
TImage
imgMovie
TBitBtn
bkClose

Save all
Under the Code Editor, click Reviewer.h and change it as follows:

private:	// User declarations
	UnicodeString Titles[8];
	UnicodeString Directors[8];
	UnicodeString CopyrightYears[8];
	UnicodeString Ratings[8];
	UnicodeString Lengths[8];
	UnicodeString Pictures[8];

	int Position;
	void __fastcall ShowStatistics();
public:		// User declarations
	__fastcall TfrmReviewer(TComponent* Owner);
};
//---------------------------------------------------------------------------
extern PACKAGE TfrmReviewer *frmReviewer;
//---------------------------------------------------------------------------
#endif

Press F12 to display the form
Double-click an unoccupied area of the form to generate its OnCreate event
Change the Reviewer.cpp file as follows:

//---------------------------------------------------------------------------

#include <vcl.h>
#pragma hdrstop

#include "Reviewer.h"
//---------------------------------------------------------------------------
#pragma package(smart_init)
#pragma link "Spin"
#pragma resource "*.dfm"
TfrmReviewer *frmReviewer;
//---------------------------------------------------------------------------
__fastcall TfrmReviewer::TfrmReviewer(TComponent* Owner)
	: TForm(Owner)
{
	Titles[0]         = L"Distinguished Gentleman (The)";
	Directors[0]      = L"Jonathan Lynn";
	CopyrightYears[0] = L"1992";
	Ratings[0]        = L"R";
	Lengths[0]        = L"112 Minutes";
	Pictures[0]       = L"distgent.bmp";

	Titles[1]         = L"Fatal Attraction";
	Directors[1]      = L"Adrian Lyne";
	CopyrightYears[1] = L"1987";
	Ratings[1]        = L"R";
	Lengths[1]        = L"119 Minutes";
	Pictures[1]       = L"fatal.bmp";

	Titles[2]         = L"New Jack City";
	Directors[2]      = L"Mario Van Peebles";
	CopyrightYears[2] = L"1991";
	Ratings[2]        = L"R";
	Lengths[2]        = L"97 Minutes";
	Pictures[2]       = L"newjack.bmp";

	Titles[3]         = L"Showgirls";
	Directors[3]      = L"Paul Verhoeven";
	CopyrightYears[3] = L"1995";
	Ratings[3]        = L"NC-17";
	Lengths[3]        = L"128 Minutes";
	Pictures[3]       = L"showgirls.bmp";

	Titles[4]         = L"Annie";
	Directors[4]      = L"John Huston";
	CopyrightYears[4] = L"1982";
	Ratings[4]        = L"PG";
	Lengths[4]        = L"126 Minutes";
	Pictures[4]       = L"annie.bmp";

	Titles[5]         = L"Dave";
	Directors[5]      = L"Ivan Reitman";
	CopyrightYears[5] = L"1993";
	Ratings[5]        = L"R";
	Lengths[5]        = L"110 Minutes";
	Pictures[5]       = L"Dave.bmp";

	Titles[6]         = L"Housesitter";
	Directors[6]      = L"Frank Oz";
	CopyrightYears[6] = L"1992";
	Ratings[6]        = L"PG";
	Lengths[6]        = L"110 Minutes";
	Pictures[6]       = L"housesitter.bmp";

	Titles[7]         = L"Beverly Hills Cop";
	Directors[7]      = L"Martin Brest";
	CopyrightYears[7] = L"1984";
	Ratings[7]        = L"R";
	Lengths[7]        = L"105 Minutes";
	Pictures[7]       = L"bhc.bmp";
}
//---------------------------------------------------------------------------
void __fastcall TfrmReviewer::ShowStatistics()
{
	edtTitle->Text = Titles[Position];
	edtDirector->Text = Directors[Position];
	edtCopyrightYear->Text = CopyrightYears[Position];
	edtRating->Text = Ratings[Position];
	edtLength->Text = Lengths[Position];
	imgMovie->Picture->LoadFromFile(Pictures[Position]);
}
//---------------------------------------------------------------------------
void __fastcall TfrmReviewer::FormCreate(TObject *Sender)
{
	Position = 0;
	ShowStatistics();
}
//---------------------------------------------------------------------------

Press F12 to return to the form
Save all