An object positioned on a parent can be seen only if its dimensions are confined to the body of the parent. To manage the display of visible windows, each parent provides a section called the client area. For the desktop screen, the client area is the whole screen. For a form, the client area is the body of the form without the title bar. Most other containers provide their whole body as the client area: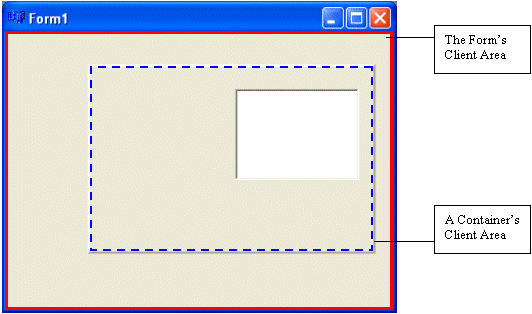 The desktop window provides a rectangular area that it can use to display the computerís applications. This area is also used to host other objects. Although an objectís borders can span beyond the borders of the desktop, only the area of an object covered by the desktop can be seen. Here is an example of a window whose right side cannot be seen:
The client area is a rectangle primarily used for its location and dimensions. To get the values of the shape that compose the client area, you have various options and considerations. For example, to get the area that represents the desktop, which would let you know how much real estate is available for your application, you can call the Screen.Width and/or Screen.Height variables.
It is important to know where the origin of a control is located. During control design, we saw that, when a container is selected and you double-click a visual control on the Toolbox, the new control would be added to the container. On the other hand, if you have a container that is positioned on the form but the container, or any specific container, is not selected, if you double-click a control on the Toolbox, the control would be added to the form even though the new control may be positioned on a container. In this case, the form would become the parent of the new control. Therefore, in order to do anything related to the location and/or dimensions of a control, you must know the coordinate of the origin used as the basis for its location and dimensions.
Because only a parent can host some controls, it holds an origin and makes it available to its children.