In the computer world, a file is a series of bits that can be stored in the computer memory so it can be opened or viewed when needed. At the low level of computer use, this can be a long or difficult process. Fortunately, Microsoft Word makes this a significantly easy task. The common operations you can perform on a file consist of creating, opening, copying, moving, and deleting one or more of them.
Practical Learning: Introducing Files
Start Microsoft Word
Type Whatever and press Enter
There are various types of files you can use in Microsoft Word. Some files will be supplied to you and some others you will be the initiator. To be a author of a file, you must start creating it and then, at one time or another, save it. Creating a brand new file mostly consists of populating it with a content. In the next few lessons and for the rest of our lessons, we will learn different techniques of populating a document.
After or while creating a document, you can store it to the drive of your computer or your network. If you store it and then close Microsoft Word, you can re-open the document another time and continue working without restarting from the beginning. Storing a document to a drive is also referred to as saving it.
There are various means you can use to save a file. The easiest technique consists of clicking File -> Save from the main menu. You can also click the Save button on the Standard toolbar to perform the same action. If you do this and if the document was previously saved, it would appear as if nothing happened. Behind the scenes, the document would be saved quietly. If the document was not previously saved, the action would display the Save As dialog box.
When saving a file, there are two main pieces of information you must provide: the location and the name.
Practical Learning: Introducing Saving a File
To start saving the file, on the Standard toolbar, click the Save button and notice that, because this is the first time the file is being saved, the Save As dialog box comes up
The location of a file, also called a path, is compared to the address of a house: it lets you know where a person lives (like the location of a file, the address of a house doesn't tell you who or what is in the house; it only gives you an address). The location of a file starts with a drive. The most common drive on a Microsoft Windows computer is called C:. This is also the default hard drive. In some cases, you may also have a drive named A: which would represent the floppy drive. Notice that both drives are represented with letters. In the same way, other letters may represent different types of drives for a CD drive, a DVD, a jump drive, or a partition. When you work on a computer, it is important to know what drive(s) exist(s) on it and what letter(s) it(they) use.
Besides a lettered drive, if you work in a networking environment, you can also use a drive on a connected computer. That is, you can use a storage area on another computer as long as you have access to it. Instead of a letter, the name of a network drive may start with \\.
Although you can save a file directly to a drive, you usually use a folder. A folder can be compared to a house: it is a container for files. Unlike a house, a folder can contain other folders. There are two categories of files you will use: those are already created and those you can create. By default, when you acquire a computer or if you install the operating system, various folders are created and you can use some of them to save your files. One of the folders that exist on a Microsoft Windows computer is called My Documents. You can save your documents there. If you work in a networking environment, the management (or IT department) may have created a folder that you can use to save your documents. You too can create folders in which to save your files. You can do this either on the drive or inside of an existing folder.
Not all drives can be written to. For example, you cannot save a file to a CD ROM or to a DVD ROM. The drive must allow it. Also, if you work in a corporate office, you may not be allowed to save anything just anywhere. You will be directed as to what to do.
Practical Learning: Specifying the Path to a File
If the My Documents folder displays in the Save In combo box, file. If not, click the arrow of the Save In combo box and select My Documents. If you don't see My Documents, select the C: drive.
To create a new folder, on the toolbar of the Save As dialog box, click the Create New Folder button
Type Business Processes and press Enter to display the new folder in the Save In combo box. If the new folder is not in the Save In combo box, double-click it to display it there
When saving a file, you must provide a name for it. The name allows you and the operating system to identify it. If you work in a new document and decide to save it, Microsoft Windows uses the first line of text to make it the name of the file. You can accept this name or you can specify one of your choice.
Before Microsoft Windows 95, the length of a name was limited to 8 characters. The new rules assume that you are using Microsoft Windows 95 or later:
The name of a file can be a combination of any alphabetic letter and digits
The name of a file can contain some other non-alphanumeric characters except the following characters < > : " / \ |
Avoid starting the name of a file with $
Avoid starting or ending the name of a file with an empty space
The name of a file should not be one of the following (that is, don't use one of the following words as the (sole) name of a file): CON, PRN, AUX, NUL, COM1, COM2, COM3, COM4, COM5, COM6, COM7, COM8, COM9, LPT1, LPT2, LPT3, LPT4, LPT5, LPT6, LPT7, LPT8, and LPT9
Don't consider that two names of files that use the exact same characters and positions but different cases are different. Based on this, consider that NAME, Name, and name represent the same name. The Microsoft Windows considers Unicode (in 2 bytes) for the characters that make up a name. This means that it represents mere (in English) and mère (in French) as two different words. However, for the rules of this lesson, we consider that Mere and mere are the same although the operating system represents them differently
The name of a file consists of all of its characters from left to right and its length. Inside of a folder, you cannot have two files of the exact same name. In some cases, and we will let you know when, the name of a file can consist of its full path and its name.
Practical Learning: Naming a File
Change the string in the File Name to Draft Proposal
Since the earlier versions of the operating system, Microsoft Windows uses some techniques to identify or archive its contents. When it comes to documents, Microsoft Windows recommends that each files ends with one or a group of characters to categorize a file. This character or group of characters is called the extension of the file. To specify the extension of a file, at its ends, which is the right side of the file for US English, type period ".", followed by the character or the group of characteristics.
In most cases, probably following the traditions of before Windows 95, most file extensions are made of three letters. Examples are txt, rtf, htm, or php. In some other cases, some extensions have only two characters. Examples are pl or cs. Nowadays, it's not unusual to have an extension made of more than three characters.
Microsoft Word documents use the doc file extension. When using the Save As dialog box, by default, Microsoft Word selects the doc extension as can be seen with the Word Document (*.doc) string in the Save As Type combo box: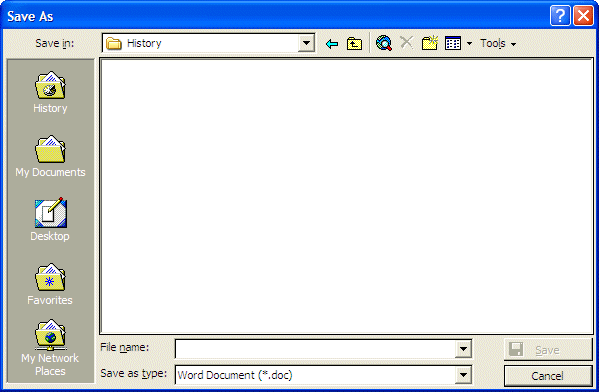 To specify the extension of a document, you can click the arrow of the Save As Type combo box and select one of the options.
Practical Learning: Accepting the Default Extension
On the Save As dialog box, click Save